It's been a thrilling tournament with attacking play, goals and surprises. Number of things we've learnt through the group stages:
1. It's a team game, no one individual is greater than the sum of all contributing parts. Holland came crashing down to earth,the predicted pre-tournament favourites were sent packing with not a single point to back up the lack of togetherness within the team.
We've also seen this with the french as usual coming into a major tournament with the quality players but somehow ego's will always rear their ugly heads. Rumors of Hatem Ben Arfa not happy with his playing time and Samir Nasri having a fallout with a number of players, branding him 'selfish' and even threatening to quit the team. The 2-0 loss to Sweden showed how much separation their is within the team.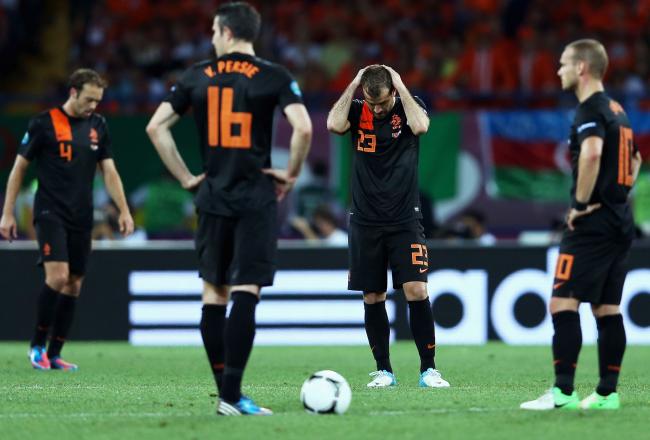 2. Setting expectations low can means you can't set yourself up for disappointment. The English always seem to over hype a team entering the World Cup or the Euros, difference this time round realistic expectation with the suspension of Wayne Rooney being the key factor for the 'anything past the group stage is good with us' mentality from the English public. However let's see how they react to finishing top of the group and set up for a game against, a few Englishmen are starting to believe.
3. It's a marathon not a sprint. Watching the second game on the opening day of the Euros, Russia dominated the Czechs passed them to sleep scored 4 great goals and the next day everyone was jumping on the bandwagon labeling them their 'dark horse'. A draw with Poland and a lack luster effort against Greece and they were unceremoniously dumped out of the competition.
Been loving this tournament so far no goal-less games so far and more bright attacking play from all teams. Hope it continues that way.
Team of The Tournament So far:
GK: Manuel Neuer
DEF: Ashley Cole, Fabio Coentrao, Mat Hummels, Pepe
MID: Mezut Ozil, David Silva, Steven Gerrard,
ATT: Cristiano Ronaldo, Mario Gomez, Mario Manzukic
Alim
Kieran Gibbs celebrates after scoring 1st goal in the PL for Arsenal.
This week's SI cover features Kentucky freshman Anthony Davis as SI previews the NCAA Tournament. (Al Tielemans/SI)



Week Two, in a two-part (!?) series: the world.

(Who else were you talking about this week?)

Reblogging Pablo directly, because if you're not following him here on Tumblr, well, you should be. Seriously, the man has had back to back SI covers with his coverage of Jeremy Lin. What have you done the last two weeks? (w.W)